>> THE MAIN SCENE: Back to my fave beach in Montauk. Ready to claim the beach, own the waves, and take on some kind of summer glow (safely as I can).

P.S. Follow The Search Scene on the Gram, Tweet & Pin us @TheSearchScene
Hi Lady,
Welcome to The Search Scene, issue #8!
Here at The Search Scene, we are a team of bad@$$ women who are dedicated to helping you with your search, no matter what. Because from experience, the search is a journey in life where you'll learn the most… whether about your career, your love life, and/or yourself. So, girl, we got you. Let's get right to it.
P.S. Invite your friends to stay on the scene. Share the love!
---
>>THE BIZ COPYCAT & THE OTHER WOMAN
>>WORK 💻 : Since I started my brand, I knew I was onto something. Soon after we launched, a handful of others (think life coaches, content creators, etc) picked up on my concept and idea, and now some may be trying to steal it. I'm all about females growing their own business (duh), but copying is a major NO. One of them completely rebranded her business model and sent out a newsletter with a VERY similar theme as mine (think identical graphics and content, and is charging people for advice…seriously, WTF!). My boyfriend said to me, "it is a form of flattery, it means you're doing something right." Hell yea I am. To all my biz copycats out there — THANK YOU! Because of you, I'm going to be the baddest bitch out there and STAND OUT even more because I don't want to be like ANYONE else. I'm just me.
Do you know what makes someone cool? Being original, not being a copycat. Being genuine, not fake…or thirsty for attention, likes, money, whatever. Owning and having your unique brand, and doing your thing…just being YOU, is what really makes you cool. People can also spot fakes better than you think. I try to be different from others, and I tell it how it is because I am honest and real. I do things MY WAY. So, to my copycats out there — sorry, I think you should realize you're off-brand.
"Because you'll NEVER be ME." - TSS
>>LOVE 💕: I remember when I found out my ex-boyfriend was cheating on me. I mean, the signs were there, and sadly, I would make excuses for him, while ignoring my gut. When I found a very long curly brown hair in his bed, I knew we were officially done and that was the proof. Later, I found myself stalking the shit out of her on all social media platforms like a complete psycho (sigh). It took me time to realize after I booked a ton of vacations for myself — why am I wasting my time caring about this person who adds absolutely no value to my life? I found myself constantly comparing myself to her too, thinking "I'm prettier, I'm smarter, I'm better," but then why did he leave me? I realized he wanted someone more submissive, less ambitious, a follower. Fuck that. He didn't love me for me, so he needed to go. But also, I needed to let go of the animosity I felt for the other woman. She didn't matter. However, I realize now that she subconsciously fueled me to be the opposite of her. Why? Because I didn't want to attract guys by being lesser than, and I knew the type of person I wanted to be and who I needed to be with. I became 10x more myself than anything — LESS submissive, MORE ambitious, a Leader.
Fast forward, a few years (and tears) later, I realize I need a man who LOVES me for ME — who values my ambition, is in awe of my leadership, encourages me to follow my dreams, and supports me in all that I do. It is truly from heartbreak and the search that will allow me to get to where I want to be in love.
And all the haters, the fakes, the copycats, the desperados, the other women…I realize they don't matter. It's WHATEVER. Brush that dirt off your shoulder. Because if anything, their unoriginality can be the very fuel to make you a better, stronger YOU. However, be careful to not give it TOO much energy. Vent if you have to, and then MOVE ON. Stay focused on you. Good things are coming your way. Don't let no bitches kill your vibe. ✌🏻
P.S. If you like what you read, invite your friends to join the party. Share us!
**STAY ON THE SCENE**
💫 Here at The Search Scene, we don't just give you the best love and job-search advice, but also bad@$$ recs where you can (safely) go to impress. I'm a New York snob when it comes to going out (*shrug*). So, I feature our TSS approved places in NYC that are open for biz, while also encouraging you to be safe if you decide to hang (wear that mask!). These places are great for networking and/or dates, so grab a drink, and support OUR city. We ain't closing. Cheers, babe. *Clink* 🥂
WORK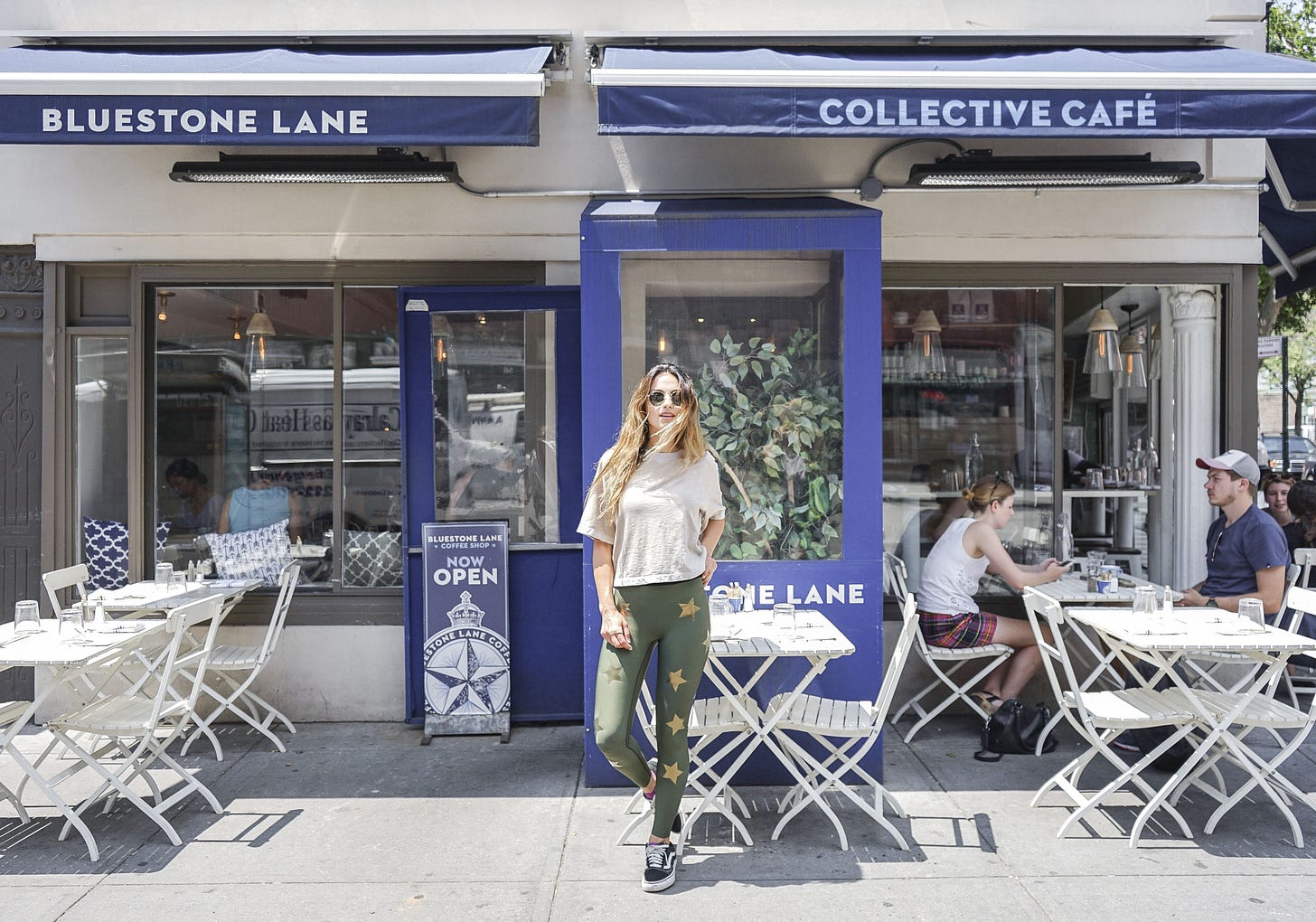 >>☕️ THE SCENE: Bluestone Lane Cafe, opens in Montauk! Great for those networking in the Hamptons (trust me, it happens…"networking"). Originally from Melbourne, BLC is the creme de le creme of flat white coffee. 🇦🇺 Get a taste of down under by checking out the latest shop in Montauk. P.S. They also sell sick surf swag — it's what everyone's tauking about.
>> LIT LITERATURE
>> LET ME CHECK MY CAL
LOVE
>>🌹THE SCENE: The Greens @ Pier 17. Who doesn't like their very own patch of grass? Especially in the city, this is gold. But in all seriousness, this is the PERFECT spot for a romantic date. 🏖 You can sit on beachy lounge chairs, enjoy sweeping views of the bridge/city, and grab drinks and food for a little picnic by the pier. P.S. This is the latest hot spot so make rezzies…I'll see you there. ;)
>> LIT LITERATURE
P.S. Invite your friends to the party. Share the love.
Until next time. Surf's up. 🏄🏻‍♀️
XO,
The Search Scene